I am simulating sit-from-stand movement in which I got abnormal peaks of the hip joint as seen in the attachment.
I checked the input C3D file and I figured out that the way the force plates recorded the ground reaction could be the root issue.
In the recording, the subject starts the movement by standing with both legs on a force plate, which is set to zero (i.e the force plate recording at that stating position is zero despite its being compressed under the body load)
When the subject start to sit down movement, the forces recorded by the force plate do not change up to the contact with the seat, then the force plate starts to be relaxed giving reaction force in the +ve direction which reaches its maximum when the subject weight is completely supported by the seat, not the force plate.
How to fix that?
In other words, if the recording starts with no contact with the force plate, then a contact, the force plate will record a full body weight in -ve direction..then once the subject start to sit down, this recorded ground reaction will start to decrease as the weight is transiting gradually to be supported by the seat..at the end the force plate will be under almost no load.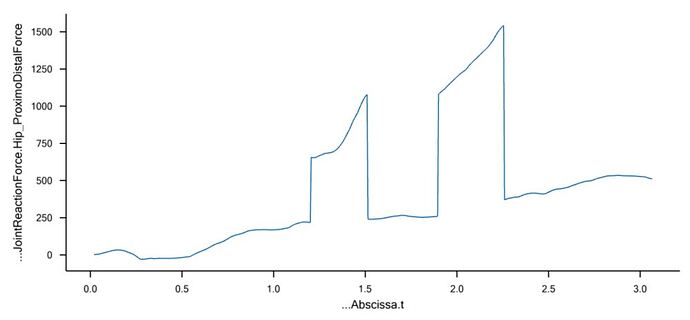 Another question:
The optimization of the markers according to:
OptX=OFF, OptY=OFF, OptZ=OFF,
Do these X, Y, and Z coordinates follow the local coordinates of the bone segment to which the marker is attached, or are the Global coordinates?