Hello,
I have a C3D file which follows the same marker protocol of plug-in-gait.
I had to modify the markers labels in Mokka to match those of AnyBody.
I changed in AnyBody force plate type from 4 to 2.
I had to deactivate the third force plate to overcome an error of out of range!
(the used C3D file has only two force plates of type 2)
After loading the main model, I got a warning:
Model loaded_the origin of this force plate is written as positive
And the model was loaded upside down as shown in the attachment!
I run the analysis and got this error:
rror_Kinematic analysis failed in time step 0
Why the model was loaded like that?! how to fix this issue?
Another question does it matter if in the C3D file the recorded motion starts from plate 1 or plate 2 direction?
Furthermore, I have other C3D files of:
-Walking the stairs up/down was recorded using a wood block of 16cm height mounted on the second force plate. During stairs up movement the subject step on the first plate then on the wood block which is mounted on the second plate. How to realise that in AnyBody by moving the second plate 16cm up.
When the step-down movement starts from the wooden block then down to the force plate. Any changesin the script should I consider compared to stairs up movement?
-One last movement, stand up/setting down. The recorded C3D file is based on standing on the first plate and set on a seat mounted on the ground. Any recommendation to realise this movement without markers/start posture issues?
Best regards,
Ahmed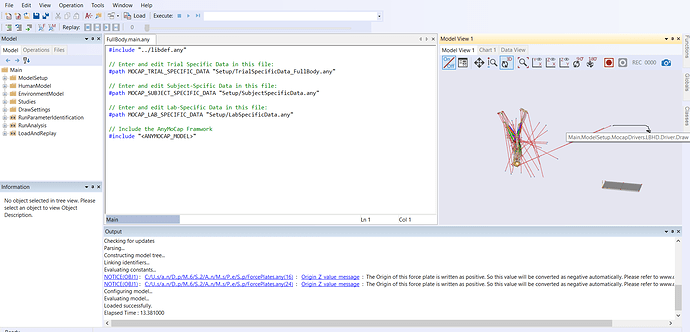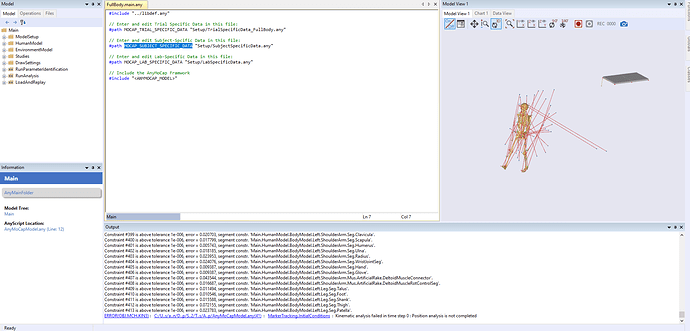 Application\MocapExamples\Plug-in-gait_Simple loaded upside down after using different C3D file