How to join the AnyBody Beta program.
AnyBdoy 7.5-beta is available. Find it in the Beta Program area
The Beta program gives you early access to new features and fixes in both the AnyBody Modeling System and the model repository (AMMR).
The beta program is visible/available to everyone who has active maintenance license for their AnyBody software. You can find it in the sidebar: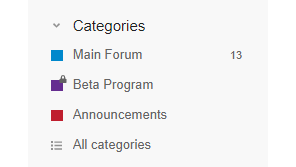 If you don't see it: Please ensure you have valid active maintenance on your license, then contact us so we can update your license status in the forum system. (Tip: This will also ensure you get support on the forum).
Once updated your user icon will receive a small badge indicating active maintenance. E.g.:

Now the Beta Program should be visible in the side bar.