Dear AnyBody Users,
I have just personalized Plug-in-gait_Simple Lower_Extremity model for my subject. The subject performs a normal walking on a two-belt treadmill. I adjusted all the parameters such as Bodymass, Bodyheight, Forceplate type, Gravity direction, initial guess for the body posture, First and last frames, OptimizeAnthropometricsOnOff option and all other adjustment required to have a reliable analysis

.
There is no problem when I run parameteridentification (not satisfactory with thorax markers yet) and marker tracking analysis. However, In the Inversdynamic stage I receive "Overloaded muscle configuration" error for muscles such as TibialisAnterior and ProneusLongus.
After a long investigation I realized that the problem is related to the moments when both feet touch the same belt. At these moments, no ground reaction force is applied to one of the feet and that foot shows different color for above-mentioned muscles and the muscle activity are significantly high (between 6 and 8!).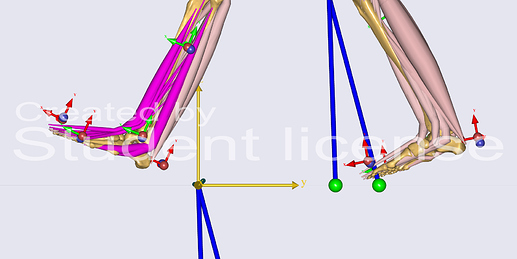 Am I right? is this the real reason causing the problem? If so, then what is the solution? I think there is something wrong with ForcePlateAutodetecton. Should I define the toe-off and heel-strikes manually?
Thanks in advance. Looking forward to hearing from you soon.
Best regards,
Iman