When I run the anybody model, these warning and error occur.
WARNING(OBJ.MCH.KIN6) : Interface.any(215) : GHRot : Close to singular position : Orientation close to Gimbal Lock, i.e., first and third axis of rotation being parallel
Progressing to solve kinematic optimality conditions and hard constraints.
ERROR(OBJ.MCH.MUS4) : AnyMocapModel.any(60) : InverseDynamicStudy.InverseDynamics : Muscle recruitment solver : solver aborted after maximum number of iterations
This is a captured picture at the moment the simulation is stopped.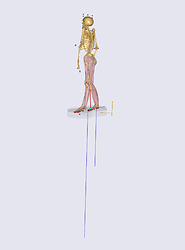 What does the blue and red line mean?
and what should I fix so that the simulation doesn't stop?