Hello AnyBody forum,
I want to look at the joint angles in comparison to the digital model alaska/Dynamicus.
For the data to be comparable, I am trying to find the reference frames of each joint.
In alaska/Dynamicus there is a default state (all angles zero) where the joint ref frames look like the ones on the left, and after loading the initial position, they look like the ones on the right: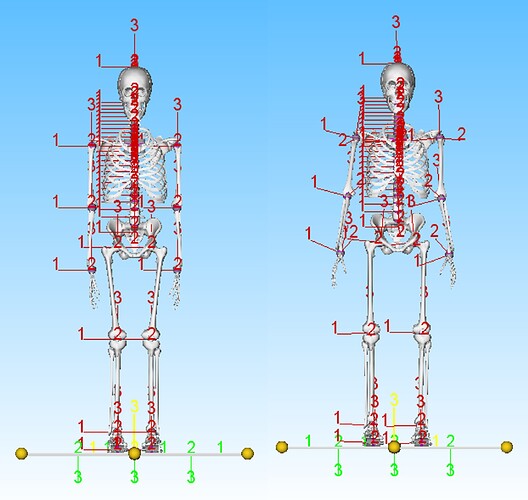 I am using the Plug-in-gait_MultiTrial example for my mocap data (different load handling trials) with a neutral position like in the right picture as the base for the initial position and parameter identification.
My question is now, is there a default view like the left picture in AnyBody and also for the right one? I have tried with a Standing Model from the AMMR with all angles set to 0, but I am unsure if in that case the reference frames would be like the ones in the picture. Also is there a quick way to show/hide the ref frames? I am currently (de)activating them manually for each joint in the Interface.any or Jnt.any files, is that the correct way (or which one is more correct as they generate different ref frames?)?
Looking forward to hearing from you, thanks in advance!