Hello,
1 I am wondering what is the meaning of the JointReactionForce?
What does "Medio_Lateral、Proximo_Distal、Antero_Pasterior、AxialMoment" mean? Is there a reference from which I may know which direaction these mean?
2 Does the results in JointMmentMeasure mean torque?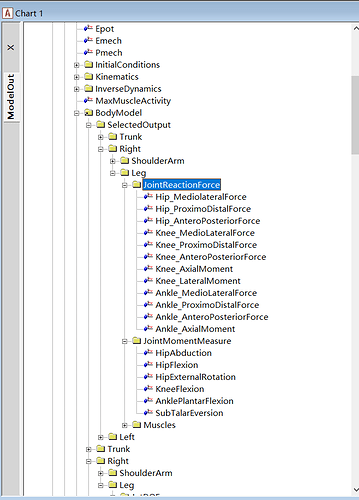 3
I find the MaxMuscleActivity is over 1. But the activity of muscles that I need to use seems to be normal. So In such case, Are the results of those MuscleActivity which is under 1 correct and able to use?
If not, What should I adjust to make the MaxMuscleActivity normal? The inverse dynamics shows some warnnings :
"
Flexor_Carpi_Radialis.SPLine : Number of allowed iterations for contact solution has been exceeded in Main.Studies.HumanModel.BodyModel.Right.ShoulderArm.Mus.Flexor_Carpi_Radialis.SPLine. Final error at time 1.987865e-001: 2.170215e-007 rel error, 3.340991e-006 abs error
".
Thank you
Best wishes
Lydian