Hello
I am working on a project on musculoskeletal modelling. So far i managed to get the model running with my c3d file. I have made a lot of adjustments to my marker protocol and mannequin along with some sizing.
In my model i am using Qualisys marker set. So i had to change the names of all the marker landmarks from Qualisys, which was Vicon earlier. I have comment out the force plates for now.
The problem now is:
the wrist joint error, i dont know how to deal with the wrist motion. It not stable during marker tracking. this is while running marker tracking. To check: Marker protocol _RWRA, _RWRB, _LWRA, _LWRB.
2)Once i run analysis, after 200 frame i get Overloaded muscle configuration and after a while i get a error, Muscle recruitment solver : solver aborted due to singular KKT matrix. how do i deal wit h this error. I see a overloaded left leg muscle.
FullBody.main.any (451 Bytes)

[c3d file]
https://liuonline-my.sharepoint.com/:f:/g/personal/bhahu521_student_liu_se/Es4_heVyZvVIqJFvPEIOOIEBXIqdS8pC7CZlesE8jgS13w?e=bU6zUq
(upload://oXrTFKRhfoGwFv2nr4cMWPPhhdD.jpeg) )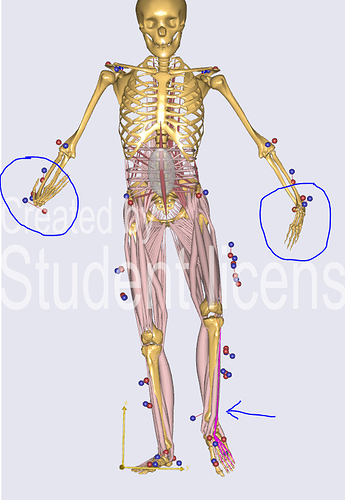 : Error obtained in run analysis
Your advice on this would mean a lot to me.I am not sure if the attached files will reach you. If not i could resend them by other means.